Welcome to Industrial Agencies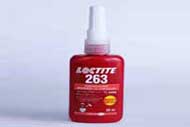 LOCTITE® -  WORLD'S NO. 1 THREADLOCKERS.

Through an extensive user survey, dedicated research spanning several years and leveraging the latest advances in technology, we introduce two Loctite® formulations that deliver the best ever performance.Formulated to deliver best performance on active and passive metals, increased oil tolerance and improved high-temperature performance. Now, you have more reasons to use Loctite threadlockers on all your fasteners.
We offer lubricants. For many of a vehicle's components, the lubricant plays a vital role as a design element. Because wherever there is relative motion between machine components in contact, specialty lubricants reduce wear and tear, alleviate friction and enhance the functioning of the component concerned. Kluber Lubrication accordingly prioritizes close cooperation between the component and lubricant producers whenever new development work is involved.
Speciality Lubricants are used where high pressure, extreme temperatures, very high speeds or other extraordinary stresses exceed the performance limits of conventional lubricants. Kluber Speciality Lubricants are custom designed to create synergy effects – they not only reduce friction and wear but also increase performance and service life of machinery.
Any industrial activity cannot be imagined without Material handling. With the growing emphasis on productivity, profitability, product consistency and quality, energy conservation, eco-preservation and efficient deployment of financial and human resources, Material handling has come to play a crucial role in every industry & organization.

We have all the facilities to conceive, design & manufacture a wide range of wheels & castors. We have computer aided design stations. Toolings are manufactured in our own tool room and machine shop. We have mechanical & hydraulic presses for manufacture of all pressed components & brackets. Life of rubber tyre depends very much on the rubber compound. To keep continuous check on quality of rubber, we manufacture rubber tyres inhouse. For that purpose we have full fledge rubber shop with mixing mills and hydraulic rubber moulding presses.
Self Supporting Extension Ladder,Wall Extension Ladder,Single Ladder,Folding Aluminium Ladder
KOTIBHASKAR MATERIAL HANDLING EQUIPMENTS is one of the leading manufacturer of material handling equipments. The factory has all the facilities to conceive, design & manufacture a wide range of material handling equipments. We are continuously adding new & innovative products to improve overall material handling.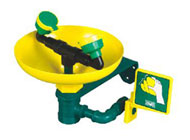 Eye / Face Wash Fountain,Portable Eye Wash,Welding Head Protection,Industrial Head Protection,Eye / Face Protection,Combination Units (Eye/Shower) etc
K.P.T,Bosch.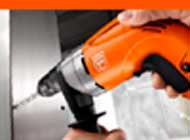 FEIN is the expert when it comes to professional and extremely reliable power tools and special application solutions in the metal, interior work and automotive fields. As the inventor of the electric handheld drill, FEIN has been developing innovative and unbeatably efficient solutions for practical applications for 140 years; machines that have proven their worth even under the toughest continuous use by craftsmen and industrial operations alike.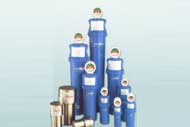 Ultrafilter India pvt. ltd. is the first joint venture company in India to Design, Engineer, Manufature, Market & Service high efficiency purification equipments meeting demanding International quality standards worldwide. Ever since its inception at Bangalore, the company has been seeking out new state-of-the-art filteration & equipments to broaden its customer base by offering wide range of products to meet customer demands from companies which require state-of-the-art filtration equipments for various applications.

Spanners,Pipe Wrench,Pipe Cutting Tools,Hammer etc
Beker Dial Gauges / Mitutoyo / China Precision Instruments.
We have metric size with PT and G thread. And inch size with NPT thread. Quick installation, simple and flexible, space-saving The tube fitting comes in a wide variety of models to meet all your needs in pneumatic piping. Even after installation, the direction of tubing can be changed freely. The release ring adopts the ellipse design to make it more convenient and labor-saving for disconnection All taper pipe treads are pre-coated with Teflon with fine seal performance. Apart from Dia 16mm,all EPC& APC models are equipped with the internal hexagonal holes. It is easy for them to be mounted in the narrow places.
Wind turbine ventilators are exactly as the name implies, they are a ventilator that is powered by the wind to create effective ventilation for different industries. This product works on wind assisted ventilation. Turbine ventilators are round metal vents with fins in them. Even just a little bit of wind can be just enough for the turbo ventilator to rotate. The faster the wind, the faster the turbine will rotate and exhaust the heat, smoke, fumes, humidity, etc.

Suprabha has positioned itself as a comprehensive corrosion solutions provider through this revolutionary new concept