Welcome to Industrial Agencies
Suprabha Corrosion Solutions Provider (CSP) program
Any industrial activity cannot be imagined without Material handling. With the growing emphasis on productivity, profitability, product consistency and quality, energy conservation, eco-preservation and efficient deployment of financial and human resources, Material handling has come to play a crucial role in every industry & organization.
That most manufacturers and exporters of engineering goods incur substantial costs year after year in anti-corrosion measures is common knowledge.
What is not known however, is that, in most cases the efforts are wasted, as they do not address the actual cause of corrosion.
The most critical step of corrosion-prevention lies in identifying its root cause. This is easier said than done since the causes of corrosion are innumerable, and can range from the incompatibility of a metal with a certain treatment, to flaws in the manufacturing process to packaging. To complicate matters further, corrosion may not be visible at the time of packing, but can progress to advanced levels at the final destination, leading to dissatisfaction at the customer's end.
The Suprabha Corrosion Solutions Provider (CSP) program minimizes costs and aims for zero level rejection or wastage due to corrosion. An ideal rust prevention system for clients, this program involves:
A thorough inspection and study of the manufacturer's product, processes and methods of packaging, undertaken by a team of qualified personnel from Suprabha
A detailed report along with recommendations
A corrosion prevention plan, which specifies and details out process revisions for optimal results
Training the manufacturer's staff in implementing the plan
Careful monitoring of all efforts by trained personnel from Suprabha
Suprabha Metal Cleaning Product
Rusting is a common phenomenon in the engineering industry. It is experienced at various stages of production, right from receipt of raw materials to manufacturing processes, storing and preservation of finished goods etc. In most cases there's little control over corrosion prevention at source. Rejection of the entire consignment in such cases although technically the best solution, is impractical for a number of reasons. Salvage operations are hence inevitable.
These are lengthy and labour intense processes when performed using conventional methods. They also do not yield the best results. The Suprabha research team
has studied these processes in detail and have developed specific products to optimise the efficacy of these processes.
Cleaning
It is a common practice to use alkaline media to remove oil, grease, dust, dirt etc. Often these are not effective. Suprabha has developed a range of water based near neutral cleaners for specific applications. These can be used for cleaning both Ferrous and Non-Ferrous metals. This is the Suprabha ALC series that includes ALC 852/854/855/856 etc. Suprabha also provides a solvent cutback cleaner SVCI 418/448.
Rust Removal
This is the next step in cleaning of metal items. To remove rust scales and oxide deposits, the smaller items can be immersed into a bath of any of the Suprabha Rust Removers, namely the RRM series (RRM 422/423).
After derusting, the components are to be rinsed in plain water thoroughly, followed by immediately dipping into a neutraliser bath of SVCI 302/302V. This is necessary as otherwise the acid drag on metal surface will result in more rust.
Suprabha also offers an additive to the acid tanks which reduces metal loss in the bath, accelerate derusting, and forms a foamy layer on top of the bath which prevents the acid fumes from escaping into the atmosphere and causing damage to the immediate structures.
Rust Convertor
For larger surfaces like fabricated products, where rust removing is cumbersome, Suprabha has a very effective solution where the superficial layer of rust can be converted into a rust preventive coating. For this Suprabha has developed a special product, the FEC 902. This can be applied on any rusted surface and it creates a rust preventive film that protects the underlying surface. Painting on such a surface is possible.
Rust Prevention
For short term and long term protection, Suprabha has a wide range of products for customer specific applications. Suprabha has developed its own methodology to keep corrosion prone items protected for the desired period of time by using water based or oil based products. For more information, please refer to our literature for Rust Preventive Liquids.
Typical Salvage Operation
Cleaning to remove oil (degreasing / deoiling)
Rust Removal
Rust Prevention
Suprabha Rustofilm and Synthetic Paper
Rustofilm
A co-extruded SVCI polyethylene film protects Ferrous & Non-Ferrous materials against corrosion. In combination with extra barrier material covers like LDPE/HDPE fabric, SVCI Rustofilm offers an excellent Transparent Seaworthy Packaging System at an economical cost. This system has won the prestigious
Rustofilm Special Features
Dry method to protect and prevent the rust from intruding into the metal
Recessed areas and interior cavities of the metals are also protected through unique SVCI ionic action.
Heat sealable
Also available in yellow & blue colour
Available as bags, gusseted bags, tubing and sheeting
Biodegradable Synthetic Paper
Biodegradable Synthetic Paper from Suprabha has almost all the combined properties of Paper and Plastic. Ordinary LDPE film can allow transmission of moisture (Breathing Phenomenon) which may cause corrosion of the packed item. Suprabha Synthetic Paper due to its unique co-extrusion manufacturing process, and SVCI additives, does not allow moisture molecules to transgress thereby preventing corrosion.
They are ideally suited for over-wrapping as well as packaging of semi-finished / finished Ferrous, Aluminium, Aluminium Alloy and certain Non-Ferrous metal components.
(Since a field of SVCI is created inside the package filling up the entire volume, the package can also be a loose fit.)
Synthetic Paper Special Features
Dry protection to metal
Also protects recessed areas and interior cavities of the metal parts
No residual film or layer on the metal surface due to contact with these products
Protection during storage as well as transit in severe saline atmosphere as per requirement
Protection duration between 6-24 months if required in ambient atmospheric conditions
Replenishing action of SVCI vapours ensures protection of the component even if the package is punctured or torn
Keeps the packed items in factory fresh condition, and ready-to-use on delivery
Does not contain heavy chemicals like silicones, nitrites, chlorides, chromates, phosphates, etc.
Products are reusable and recyclable
Suprabha Rust Preventive Oils and Rustogel
Rustofilm
Suprabha Rustogel is a ready-to-use petroleum jelly based rust preventive gel. Upon application a tenacious film is created on the machined surface. The vapours released by chemicals create a protective vapour barrier that keeps corrosion promoting agents like moisture and oxygen away. Ideal to use on partly machined large castings received from vendors, fabricated items, welded joints etc.
Rust Preventive Oils
Traditional Rust Preventive Oils work on the principle of Contact Inhibition. If the oil film is disturbed in handling, the exposed area catches rust, which subsequently spreads to the areas beneath the oil layer.
SVCI Rust Preventive oils work on the principle of both Contact and Vapour Corrosion Inhibitions. As a Contact Inhibitor, they form a film on the metal surface, forming an effective barrier between the metal surface and the atmosphere. The SVCI chemicals blended in the oil release continuous vapours into the air over the oil. In case the oil film is disturbed in handling, the vapours released by the chemicals from the neighbouring areas create a vapour barrier, thus protecting the metal surface. The vapours also migrate to the recessed areas of the component, where physical application of oil is not possible.
Suprabha also offers a special SVCI concentrate for oils. Most suitable for use with hydraulic oils, gear oils, lubricating oils and also MTO & kerosene. To be used at 0.25 % to 1.0 % concentration.
Special Features
Protection to Ferrous and Non-Ferrous metals except brass and cadmium
Special properties to neutralise acid in the atmosphere or transferred by the finger prints on to the metal surface
De-watering properties to de-bond the water from the wet surface of the component
Non-hazardous, eco-friendly and environmentally safe
Non-toxic and mild fragrance makes it ideal for in-plant use
Conforms to IS-1674 specifications
Provides protection to Ferrous as well as Non-Ferrous metals
Even in adverse conditions of 100% Relative Humidity, the recessed areas of the metal surface are also properly protected
Protection from rust during storage, both indoor as well as outdoor
Economical and easy to use
Protected areas of the component do not require cleaning/degreasing while assembling, thereby saving time and effort
Easy to clean using common degreasers if necessary
Components when additionally wrapped in Suprabha Rustopaper can offer longer period of protection
SVCI Rustopaper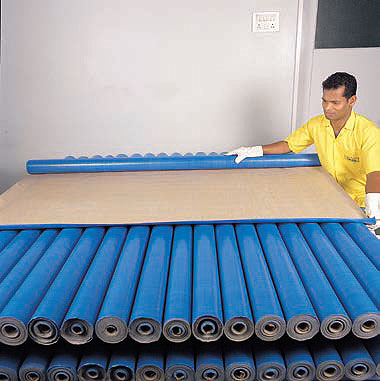 Suprabha Vapour Corrosion Inhibitors or SVCI protect both Ferrous as well as Non-Ferrous metals from corrosion. SVCI protection can be administered to metal components through elements of packaging and preservation. Paper is one of the principal elements used in packaging.
Special SVCI impregnated papers have been developed by Suprabha for packaging of metal components. These are plain kraft, polycoated, and multi-layered products, ideally suited for over-wrapping as well as packaging of semi-finished or finished metal components. Suitable for Ferrous, Aluminium, Aluminium Alloy components and or Non-Ferrous metal components such as those made from Copper or Brass. The multi-layered sheets are woven HDPEfabric laminated, having adequate strength and waterproofing properties. These sheets when used as protective covers provide moisture-resistant and tear resistant protection to the packed items.
Special Features
Dry method to protect and prevent moisture and pollutants from attacking the metal
Inaccessible areas and microscopic cavities in the metal surface are also protected through unique SVCI ionic action
On contact with the metal, the SVCI paper does not leave any residual film or layer
SVCI vapours treat the entrapped atmosphere / moisture inside the package
Even if the SVCI layer is disturbed due to opening of the enclosed space, the protective layer gets replenished by the continuous vapourisation of the SVCI chemicals
The SVCI action keeps the packed items factory fresh and in a ready-to-use condition till they reach their destination
Need-specific protection against rust during storage as well as transit
Protection in ambient atmospheric conditions of durations between 6 and 24 months or even more if required
Eco-friendly, environmentally safe, and economical
Conform to IS - 6263 specifications
Does not contain heavy chemicals like silicones, nitrites, chlorides, chromates, phosphates, etc.
Rustopliq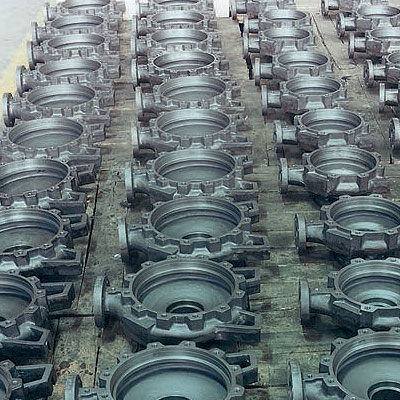 protection period is however sufficiently long to ensure in-plant and in-process protection. These products are ideal for protection from few hours to few days. Repetition of application however can extend the period of protection as desired.
This simple method of surface protection obviates the need for costly rust preventive oils and installation of conventional multitank system to clean the surface off oil, rust etc. on components by following cumbersome process. It completely eliminates the pollution caused by the cleaning system.
As there is no loss of liquid due to evaporation, usage of SVCI Water based eco-friendly liquid for rust prevention will be economical.
Special Features
100% eco-friendly and environmentally safe
Neutralisation action removes acidic traces present in the surroundings and avoids any further attack on the metals.
Protection against rust during manufacturing process
Eliminates the ill-effect of the reminiscence of coolant and fingerprints
Soluble in coolant hence eliminates the need for removing protective coating
Non-toxic, non-hazardous, noninflammable formulation and mildfragrance makes it ideal for in-plant use
No need for wrapping and oiling during storage
Protected areas of the component do not require cleaning / degreasing thereby saves time and effort
Components when additionally wrapped in Suprabha Rustopaper can offer long periods of dry protection
SVCI Rustopowder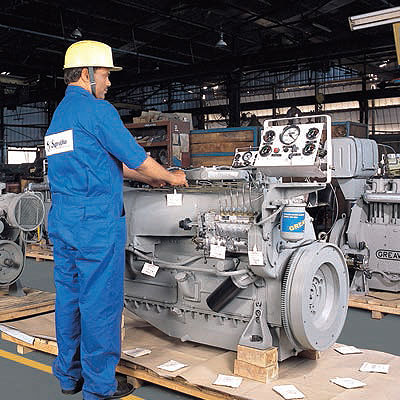 Desiccants such as Silica gel are commonly used inside a package to absorb moisture. These are often ineffective and at times cause corrosion of the packed item rather than the prevention. The phenomenon of bleeding of silica gel promotes acidic atmosphere in addition to increasing the humidity level inside the package.
Suprabha approaches this problem by providing two varieties of desiccants, namely the SVCI Rustopowder and Suprabha DHF 555 Dehumidifier. The former provides positive rust prevention by adsorption and the latter by absorption of the moisture and keeps the same under control.
SVCI 512 Rustopowder
On vaporisation SVCI molecules migrate and then condensate, forming a monomolecular film on the metal surface. The SVCI molecules are attracted towards metal surfaces and protect every area of metal components including cavities and recessed areas.
Special Features
In case the package is breached and the conditioned atmosphere within the package escapes into the outside atmosphere, the monomolecular SVCI layer remains undisturbed due to the continuous vapour action till the powder remains inside the package
The invisible SVCI layer on items shipped need not be removed, and the parts, components or assembled units are ready for final assembly on delivery, since no de preservation or cleaning is necessary
Continuous dry protection; effective up to 24 months
SVCI does not affect the functioning of most electrical and electronic components
SVCI powders protect both Ferrous & Non-Ferrous metals
Conforms to IS-5730 specifications
General dosage 5 gm/C.ft
Suprabha Seaworthy Packaging System
Suprabha Seaworthy Packaging System demonstrates how innovation need never stop.
By utilising the inherent strength of Vapour Corrosion Inhibitors (VCI) in the form of packing material, rust-preventive oils, water-based liquids, gels, desiccants and tablets, this system ensures corrosionfree delivery of high-value engineering components to overseas destinations. Operating at two levels of protection, the system provides a superior barrier material on the outside while conditioning the entrapped atmosphere inside the packing
Special Features
Economical and effective packaging
Airtight and waterproof packaging
Savings by eliminating the need for vacuum packaging
Packaging of merchandise in any shape or size is possible
Potential of reuse and recycling
6 months to 10 year protection